The first game of the week was in the North Wilts mixed league away to North Wilts, it ended with a win for North Wilts 54-50, (2-8pts), the only winning rink being that with Rod Amor in command!.
Round 1 of the Men's county Pairs match between Chippenham Town and Calne comprising of Barry W and Dave J played at Chippenham Town and Calne won, so onto the round 2 where they play another team from Chippenham Town, not surprising as of the 14 teams in Area 2 they have 9 of them. Well done to our pair.
On Tuesday in the WHL, the men in Calne 'A' were away to Trowbridge Town 'A' and managed a 17-12 win, whilst the Calne 'B' team were at home to Corsham 'B' and unfortunately came second, going down 13-15.
Seidal League News. A new venture for our lady members. Two teams in action. The Greens travelled to Chippenham Park in an attempt to conquer the might of their club. Alas we were unable to achieve that and the match ended 31 to 9 down. A great try on a very hot afternoon.
At the same time the Blue team was in action at home. Although a very enjoyable afternoon the score was 33 to 9 against Calne. All of the players gave it the very best and enjoyed playing against a team from another club, some for the very first time. It was good to see a ladies away team on our green. Something we missed last season.
On Wednesday our entry in the Men's National Club 2 fours visited Chippenham Town to play against a very strong 'A' team and our 4s, skipped by Paul M and Martin S lost 10-24 and 13-16 respectively, hard luck lads, try again next year.
On a happier note, our Bee houses arrived courtesy of the Cherhill Scout Group, so if you have any solitary bees, who do in fact make up 90% of the bee population and are very important pollinators, that need a holiday let us know.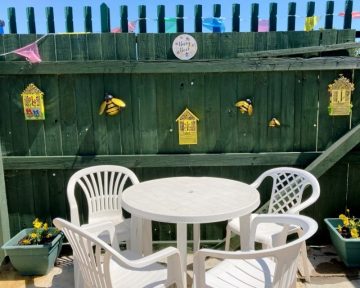 With grateful thanks to the Cherhill Scouts Group.
On Thursday in the men's M.W.T.L. Calne 'A' were at home to North Wilts 'B' winning 74-49 (10-2 pts) and Calne 'B' were away to Corsham and in a very close game lost 40-47 (0-12pts)
On Thursday the Ladies started their games in the Ladies Triples League, with a visit to Blue Circle where they won 32-30 shots (4-2 pts).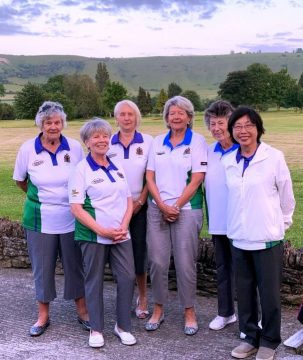 l-r  Ann B, Yvonne, Ann C, Josie, Sue and Mayumi.
Friday found our pairs duo of Barry W nad Dave J at Chippenham Town (again), they ran out winners 19-10 and now face another Chippeham Town Pair led by Jeremy Haselton on Monday evening at Calne, good luck lads !
To round the week off, on Saturday we are entertaining Weston Bowls Club from Bath, in a mixed friendly, start time 2-30pm.