Well it's August 2021 and we are now back up and running with all mats in use and 3 sessions a week, let's hope it stays that way through the winter.
All sessions are as shown below.
We still have the ESMBA Covid safe club status, so are members can be assured we do everything to ensure their safety.
Many thanks to all the members who have attended the restricted periods over the last 18 months, from comments made all our precautions worked and members felt very safe.
As before times are the same, except for a slight change on Wednesdays.
Times are:
Monday     2pm to 4pm
Wednesday 1-45pm to 3-30pm
Thursday     6-30pm to 8-30pm.
Whilst our membership has held up very well, we can now look to take on a limited number of new members, so pop into one of our sessions and have a chat if you are interested,
If you need anymore information please look at the foot of this page and get in touch.
NOW HERE IS SOME NEWS.
A friendly against Devizes on the 4th March at Devizes, ended in a 33 – 54 defeat, we managed to win 1 rink and lost 2. Scores were
Skips first
Stuart, Angela F, Wendy and Doug lost 5-25
Les, Jennie, Terry and Sheila won 22-10
John H, Barry K, Alan W and Bryan lost 6-19
Devizes were great fun to play against and playing on different mats gives our players experience. The refreshments afterwards was excellant (as was the bar) and all in all a great evening was enjoyed by all. So a big thank you to all at Devizes Short Mat.
Your very clever secretary? forgot his camera, but at least managed to remember his phone, so the pictures tend to be on the panoramic scale!
We look forward to the return match.
HOW 2 OF OUR MEMBERS RELAX FROM THE STRESS OF SHORT MAT!
CLUB'S FIRST EVER COMPETITION
The Club was represented in its first ever foray into competitions, they received a warm welcome and found they were up against County and National players.
However they gave a good account of themselves and managed to win 1 game.
The photograph below is courtesy of Yvonne, many thanks.
CLUB'S FIRST EVER ANNUAL LUNCHEON
Annual Lunch 2nd Feb 2020 at the North Wilts Golf Club, an excellent venue with great food, the room was a pleasure to eat in. Here are some photos of the happy day.
Monday January 13th 2020
This proved to be the record number of attendees for a session, 33 members turned up for a game, with co-operation from the members, most got at least 1 hour, however we have had to make the following decision, so as of the 14th January 2020 we regret we will be unable to accept any new members as we have now over 50 and are finding that sessions are full, we will however operate a waiting list and when we are able to take on new players, they will be contacted in order.
We can only apologise for this , but the success of the club has been astounding as we have only been going 15 months!
Please feel free to come and talk to us at sessions and we can always give you a chance to play to see if you would like the game.
December 23rd Christmas Fun
Monday afternoon saw the Short Matters let their hair down (those that had any!!!). It was a free session with food included and 28 attended.
Father and Mrs Christmas (with their little helper) and a reindeer, what more could you ask for – even the wood centre blocks were removed and replaced with larger items!
Here are some photos for your amusement.
LATEST FRIENDLY RESULT
Calne travelled to Urchfont on Tuesday evening in a return friendly match, their second friendly,  the mat was much shorter than we were used to and as a result it took a while to get used to it, however it was good experience and more friendlies are planned, Our friends at Urchfont did a very nice supper and all in all whilst we lost on all rinks, it was a fun, sociable and challenging evening.
A big thank you to all at Urchfont.
Scores were, skips first
First Half
Stuart, Phil M, Les and Jennie lost 7-9
Wendy, Phil W, Bryan and Angela F lost 4-12
Second Half
Doug, Phil M, Les and Bryan lost 5-8
Norman, Phil W, Alan W and Mary E lost 6-7 (1 shot lost on the last end)
New Thursday evening session report in newspaper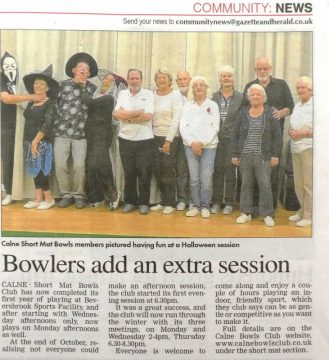 CHRISTMAS/NEW YEAR TIMINGS
The Christmas/New Year timing of sessions is as follows:
Monday 23rd Dec 1.30pm – 3.30pm (Beversbrook closes at 4pm)
Wednesday 25th Dec, Thursday 26th Dec, Monday 30th Dec and Wednesday 1st Jan 2020  –  NO SESSIONS
Normal service resumes
Thursday 2nd January 2020.  6.30pm – 8.30pm
OUR FIRST EVENING SESSION
We are now approaching the winter of 2019/20, membership has increased and all 3 mats are often in use.
As a result it has been decided to start a Thursday night session to see if there is a demand for one.
The first evening session is on 31st October 2019, 6-30pm to 8-30pm, PLEASE NOTE due to previous booking, there will be no session on Thursday 21st October only.
Details of the existing sessions are as follows:
Where – Beversbrook Sports Facility, Beversbrook Lane, Calne, SN11 9FL
When – Every Monday and Wednesday (exc. Bank Holidays)
Time – Afternoons 2.00 pm to 4.00 pm
Cost – £3 per 2 hour session: Annual Membership (Nov-Oct) £10.00
Experienced and novice bowlers welcome
First 3 sessions free
Required – all that you need to bring are flat shoes, to get
you started, all other equipment will be supplied.
Coaching available
For further information phone:
Stuart – 07974 804991 Secretary and Treasurer
Ann – 07779 464170 Session Organiser
So just turn up and enjoy the fun of gentle exercise and sociability that is short mat bowls!