The week started with a visit to Pewsey Vale to play a 5 rink triples Friendly.  It was an overcast afternoon but we were greeted with great courtesy, as always, by Captain John and his team members. The spider was won by Roy Jennings.  Unfortunately, following a heavy downpour on the 12th end, the captains decided to call it a day. At that time the score was Calne 54 Pewsey Vale 46 – Calne W3, D1 and L1. Both teams had new members playing and they all did well.
Sometimes when it's raining  you can only sit and wish you were allowed on the green!
On Monday in the North Wilts Mixed Comp we were at home to Chippenham Town.  Not a good day – Calne lost 40-51 losing on 2 rinks and drawing on one.
In the evening the Ladies were playing in the third round of the National Ladies Senior 4's against Wroughton, Despite the occasional heavy shower our team played very well. The match ended in a 18 – 12 victory for Wroughton. Well done Calne ladies for progressing this far.
Tuesday in the WHL the 'A' team were at home to Spencer Melksham 'A' and won 20-13.5, whilst the  'B' team were away to Broughton Gifford 'A' and unfortunately lost 6-26. The Ladies Seidal teams have postponed their game until Thursday and start time for both games is 2pm.
On Wednesday the Wiltshire Masons entertained Berkshire Masons in their first friendly at their Calne "home ground".  There were lots of people renewing friendships and plenty of banter.  Unfortunately your reporter has lost the final score but that is probably immaterial as everyone appeared to have a good day, going home happy and well fed (and definitely not thirsty). Here are some photographs of the day.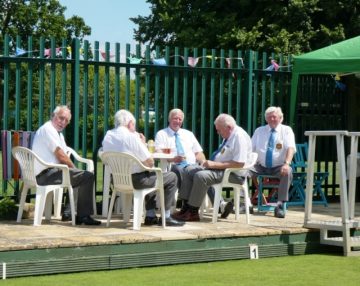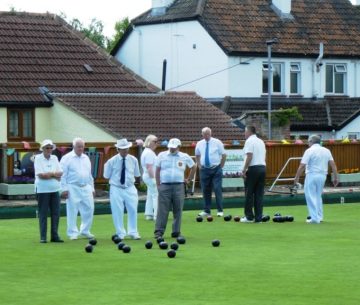 At the same time the Ladies' triples were away to Box resulting in another win for Calne. The score was 6 – 4 to Calne. Our team remain undefeated so far this season. For some of the team it was their first visit to Box B.C. Well done to all the players.
Thursday saw the rearranged Seidal game with the Calne Greens at home to the Calne Blues, start time 2pm and an enjoyable afternoon's bowling. The Greens coming out the winners at 31 shots to 5. Well done you greens!
In the evening in the MWTL the 'A' team (who are top of the league) were at home to Corsham and won 50-44 (10-2pts), whilst the 'B' team (who are second in the league) are resting, having no game. Thursday morning Yvonne took part in the Champion of Champions competition. She played away to J Hallard (3rd encounter in this year's competitions) playing at Wroughton B C. Yvonne enjoyed her trip to Wroughton and after a game lasting two and half hours the result was 21 shots to 15 against.
No other League games for the week, although competitions, both club, County and National are still continuing.
On Saturday 17th Captain Yvonne attended the BWL North 2 wood singles competition at Westlecott BC. Yvonne won her first match 17 – 6, second match 15 – 6 and was unfortunate to lose her third match 14 – 17. After 51 ends on a very hot day she missed the last 8 by 3 shots. You did yourself and our club proud Yvonne. Very well done.