The last week of bowling at the club, time to give the rinks a rest over the winter, however there is still a lot going on this week.
The week started with the Men' drawn triples game on Sunday afternoon, this was to celebrate the successes the men had this year, it was a very enjoyable afternoon with the final positions being
Barry W +16
Steve M +11
Richard +7
Steve P -18 consolation prize.
The spider ended was a tie, Barry's W and K taking the wine.
Monday evening was the final of the Mixed Triples, it was closer than the score shows with Barry W, Yvonne and Dave J beating Derek, Angela and Dave D. 22-14, it proved to be a very entertaining game.
Tuesday evening brings the annual Twilight bowl, inc Fish and Chips, please see separate entry on the home page for this event.
Wednesday evening was the remaining semi-final of the Aussie Pairs competition, it resulted in win for BarryW/Dave J. against Allan/Barry K 21-7.
Whilst that game was taking place on rink 6, rinks 1, 2 and 3 were taken over by the Cherhill scout group. this was a thank you and an introduction to bowls for the group, below are some photos, it was an interesting experience and they all appeared to enjoy themselves.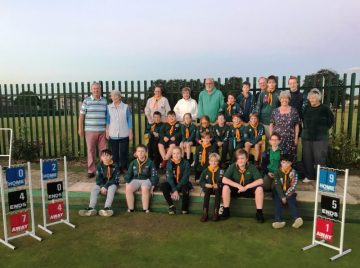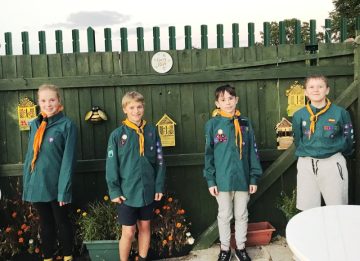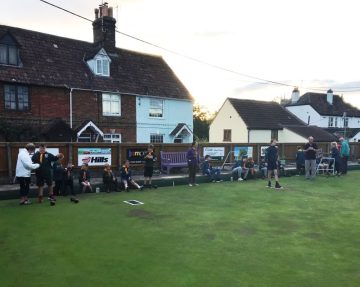 On Thursday in the morning it is the final of the Ladies 2 wood competition, followed in the evening by the Final of the Aussie Pairs Competition.
Friday is a free day, however Saturday is the official closing day with a mixed drawn triples competition, see separate entry for details.
On Sunday there was a friendly against Malmesbury on their artificial grass, apparently they are unbeaten at home since having the artificial surface done, we gave them a good run for their money but unfortunately lost, but it was a very enjoyable game.