On Sunday we held the last of our Open Days for the year (see separate postings).
Monday in the North Wilts Mixed League found us at home to Bradford-on-Avon, unfortunately we lost 35-64 (0-10pts). In the Ladies 2nd round of the Bowls Wiltshire National Triples competition, the ladies lost by 1 shot to Wroughton 16-17
On Tuesday in the Men's White Horse League, Calne 'A' were away to Corsham 'E' amd won 17-12, however Calne 'B' lost at home to BOAL's Team (Bradford-on-Avon). 11-21
Our Ladies were away to Trowbridge Westbourne on Tuesday, playing in the Nor West League, It was not the result Calne ladies were hoping for and lost 20-43. It was played in good spirit, It became quite cold as the evening went on with a very cold wind.
Wednesday has a Australian Pairs Competition game in the evening.
Thursday had the MWTML 'A' team at home to Blue Circle and they won 64-38 (10-0 pts), whilst the 'B' team was away to Warminster 'B' and also won 50-45 (8 – 2 pts)
On Thursday our ladies were away to Avon, playing in the B/W league they came second with the score 19-45. The ladies  were very cold as the wind was very chilly, at least it did not rain.
On Saturday in the morning David Johns was playing in the B.E. National Champion of Champions against Paul Beazer, this was David's first foray in this competition, unfortunately he lost 10-21, next year David.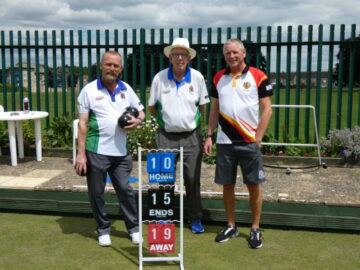 On Saturday we had a late start in Cirencester to fit in with the recent parking charges/restrictions however we were on the green by 3:15 wearing informal red white and blue as Cirencester BC were taking part in he Big Bowls Weekend to encourage new members. Their green has been reworked since last year and played well, unfortunately Calne didn't quite master it as well as the home team hence we lost by 17 shots 56-73.
However a enjoyable day playing bowls in the sunshine was had by all.
We postponed the half time tea and biscuits until the end to allow footy fans to get back in time to watch a certain match being played in Paris. All the pictures are in the gallery section.