With apologies for the delay in posting this, it has been busy few days, however here we go for the official last week of the season at Calne Bowls Club, although the rinks will be open for roll-ups after the 24th September depending on the weather.
This week started with the Men's get together on Sunday with Roy Jennings/Norman Lawton winning the competition.
Tuesday evening was the Pat Watson Twilight Bowls (including fish & chip supper) and was very well attended, as usual it was a lot of fun, the fish and chips were just right and as normal one of the lights was hit by a bowl and was broken. The following link will take you to the photograph on the gallery section.
Pat Watson Twilight Bowl –20th September 2022
Wednesday evening we are entertained the Cherhill scouts, as we did last year, it was a fun evening and all 18 enjoyed themselves, pictures can be found on our gallery section using the link below.
Cherhill Scouts visit – 21st September 2022
On Thursday evening it was the final of the Australian pairs competition between Paul Mackie/Pat Watson and Barry Wicks/David Johns, with Barry and David winning 22-12.
Saturday was the official closing day and was be marked with a Ladies vs Men competition for the first time in many years, Hopefully it will become a regular event.
Here is the group photo, more photos on the Gallery page
Ladies vs Mens Closing Day 24th September 2022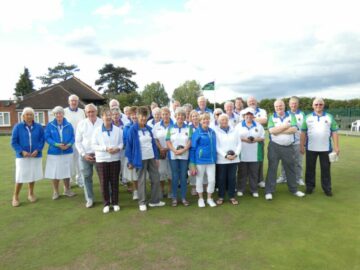 Group Photo