Due to B.E. restrictions only 6 people are allowed in the club at any one time, normally there would be club members and visitors, unfortunately we had to make do with 6 of the committee, Jan Payne, Ladies Secretary is self isolating and was unable to attend.
Below this is the article from the Gazette and Herald.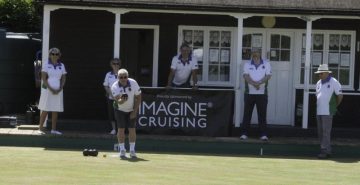 Calne Bowls Club re-opens its green on Saturday for members to get some practice
By John Baker Reporter
MEMBERS of Calne Bowls Club are looking forward to getting some competitive games played in August and September after re-opening on Saturday May 30 following the Covid-19 coronavirus lockdown.
After restrictions were lifted on sports activities such as bowls, golf and tennis, club chairman Barry Wicks bowled the first wood for the green opening ceremony, with onlookers outside the gates showing their appreciation.
For the next few weeks, until the coronavirus lockdown is completely lifted, the club will use the green for its 55 members to get some social bowling practice.
Following the success of 2019, when the club's membership increased and promotion was achieved in the Men's White Horse League, as well as narrowly missing promotion in the Mid Wilts Triples League, the club was looking forward to building on this success.
Unfortunately, due to Covid-19, it has had to cancel its open days for now and postponed the usual club green opening ceremony until Saturday May 30.
Mr Wicks said: "The green is in its best condition for several years, despite the dry weather, and was bowling very well so it was disappointing not to be playing matches in the leagues.
"I would like to thank the members that have put so much work into getting the club ready for the opening."
Mr Wicks said bowls is still a great way to exercise and meet people, adding "the previous image of old men in blazers has now been all but banished, with a variety of ages and abilities welcome.
"We are open to both club members and the public but, currently, there are restrictions issued by Bowls England on the total number of bowlers allowed on the green, so a booking system is in place.
"Whilst we are hoping that the restrictions will be lifted before the end of the season, with an opportunity to hold an open day, anyone wishing to have a roll up or wanting more information about joining the club should contact our secretary, Stuart Beard."
The club, which was founded in 1914, is hoping that the coronavirus regulations will soon be less restrictive, and members are looking forward to getting some competitive games played in August and September. Planning is already in place for the 2021 season.
The club is off Hillcroft, Anchor Road, Calne, and its season usually runs from April to September. Members compete in men's, ladies' and mixed leagues within Wiltshire.
In addition, there are various inter-club friendly matches, both in Wiltshire and with teams from other counties. There are also club and county competitions.
All you need to play is a pair of flat-soled shoes or trainers and your first three sessions, together with coaching if required, are completely free.
Due to the coronavirus restrictions, the regular club nights on a Tuesday have been cancelled.
To join the club, go www.calnebowlsclub.co.uk.