The week started on Sunday when we entertained Cirencester in a friendly match. We played 2 rinks of triples and 2 of fours and after a close fought match we each won on 2 rinks with the visitors coming out on top with a shot score of 60-54. It was a very enjoyable afternoon played in the right spirit with plenty of good natured banter and our usual lovely tea was enjoyed by both sides. Special thanks to our players who helped Cirencester and to Beard's catering service for the refreshments. Our thoughts were with our Captain Steve who had to drop out at the last minute, we wish him a speedy recovery. Photos are in the gallery.
On Monday in the North Wilts Mixed league we were at home to Trowbridge Westbourne, due to the hot weather the game finished at 10 ends with a win to Calne by 48-21 (10-0pts). In the evening in round 2 of the Bowls Wiltshire County Champion of Champion Yvonne McColl played Jo Hicks (Highworth) and unfortunately lost. Unfortunately I arrived to late to take a picture of the scoreboard or the winner, so this will have to do.
On Tuesday morning two of our ladies  teams played against each other in the third round of the Wiltshire Ladies county over 70's competition, Martha's team won with a score of 19-13,  This is the first time any of our ladies have achieved this in the over 70's competition, We wish her team well in the fourth round.
In the afternoon all 5 teams are playing.
The Seidal league  Blues were at home to Corsham, and lost 8-12, whilst the Greens were away to Box (Pink),and lost 3-24.
In the men's White Horse League the A team were away to Spencer Melksham B and unfortunately lost 17-20, the B team were at home to Calne C, with the B team 2 winning 17-13. At 6pm Yvonne McColl and David Johns started their defense of the West Wilts Holloway Cup that they won last year and were away to David and Wendy Williams from Chippenham Town, it was a good game and our pair came away 17-15 winners, well done – on to the next round.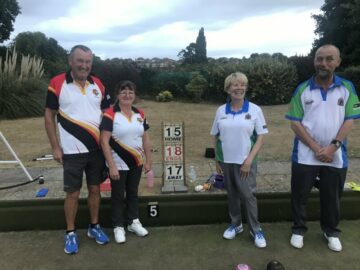 Back at the club it was the normal Club Night, with a surprise guest – Barry Wicks, obviously needs the practice!!
Wednesday The Nor-West Ladies Triples league against  Malmesbury has been cancelled due to Malmesbury pulling out of the league.
The B.W. Ladies triples league due to be played on Thursday against Winsley has been cancelled, due to illness.
In the M.W.M.T.L. the A team were at home to Trowbridge Town A and won 47-34 (8-2pts).and the B team were away to North Wilts B, they also won 53-36 (10-0pts).
On Friday and Saturday there are the normal coaching sessions.
Below are the Friday afternooners, hope you see this Roy and that you are on the mend. With very best wishes from-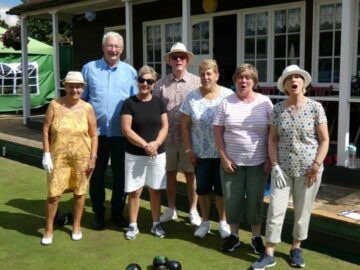 To end the week on a high note, Roy is now home and it would appear they have saved his sight, he now has at least a month of no bowling!
Also just in The ladies have visited Leamington Spa for the Olympics to soak up the atmosphere and get ready for their visit later this year.