The Gazette and Herald have done it again, last year we were a Boules Club, this year they have moved our open day from a Sunday to a Saturday and not content with that they have relocated us to Beversbrook!
Anyway here is the article corrected by yours truly.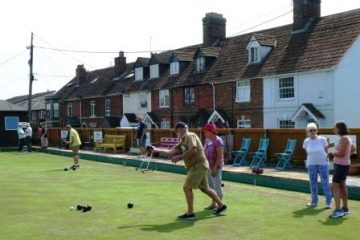 Bowling club holds second open day on Saturday (no it is Sunday) at Beversbrook ?(no we are at Anchor Road) after first success
CALNE Bowls Club held a successful Open Day on Saturday, with six new members and 12 interested referrals, and is looking forward to the second event this Saturday ?‍♀️ (no it is Sunday), (August 15) ?‍♂️ (No it's August 16th), when they hope to encourage some more potential players to try the sport from 10am.
Secretary Stuart Beard said that the weather had been a little warm but everyone appeared to enjoy themselves, adding: "Fortunately, there were some family groups, so social distancing hadn't become an issue. Booking is preferable either by email email hidden; JavaScript is required, or by phone to Men's Secretary, Stuart, on 01225 706972, or Ladies' Secretary, Janet, on 01249 816954.
"We did have a few visitors who just turned up on Saturday but we had some available slots and were able to give them a chance at this great game. We are beginning to be aware of a lot of untapped bowling talent in Calne, so come on give it a try, you may wonder why you haven't tried it earlier.
"All you need is a pair of flat shoes and all other equipment will be supplied (suitably sanitised), so why not give it a try and find out what a great game bowls is."
Details of our club and the Open Day are on the website: www.calnebowlsclub.co.uk
I have emailed Beversbrook to ensure that anyone looking lost on Saturday should be direct to us on Sunday.