On Sunday morning our ladies were playing in the 1st round,at home in The County Senior Fours against Swindon North End, Our ladies won 21-14. It was a very hot day.
The week started with a friendly at home to Pewsey Vale and on a blistering hot day and a fast green, it was decided to play just 16 ends, the result was a win to Pewsey Vale 83-82. A full report and photos will follow once my correspondent on the day has recovered.
Monday evening saw Yvonne playing in the 1st round of the Ladies National Singles it was a  tight game against N.Kemble-Young (Supermarine) which resulted in 25 ends and the last end Yvonne won 21-19, Well done Yvonne, We wish you well in the next round, here are 2 photos of Yvonne, she will not thank me for the first one, but it was a long, hot, tiring game.
On Monday in the North Wilts Mixed league we had a home game against Chippenham Town and unfortunately lost 26-48 (2-8pts). In the evening our men's pair David Johns/Barry Wicks are in the Bowls Wiltshire National pairs competition, this being to qualify for the last 16 round. against a Royal Wootton Bassett pair led by Graham Hatherall, the game stopped at the 17th end with the score 12-21, we wish Graham and Neil all the best in the next round and say well done to David and Barry for getting this far.
On Tuesday morning our ladies were playing at home in the 1st round of The County Senior Fours against Stratton Churchway, Our ladies won 14-10. The 2nd round has to be announced when the two Calne teams will battle it out  between themselves.
On Tuesday afternoon the Seidal (Green team) were playing at home to Corsham and won 16-10, Well done ladies!
On Tuesday evening our ladies played in the National  Top Club against Box, our ladies lost against Box who were a very strong team, the ladies played in good spirit being it the first time Calne had entered this National Competition. The evening ended with a nice supper and we were thanked by the ladies from Box who enjoyed their supper.
In the White Horse league the men did have 2 games, however the A team have cancelled their home game to Spencer Melksham E as several members are attending a funeral of a club member. The C team were at home to Warminster C. and won 16-14. The B team had an open date.
On a sadder note it was Barry Coopers funeral at Potterne church at 12-30pm, he was a good supporter of the club and a pleasure to know and share the green with. He will be sadly missed.
There was no club night this week, due to the above B.E. Top Club competition occupying the greens.
Wednesday evening our ladies played at home in the B.W. Triples league, against Avon, They had a good win scores were 47-23. Well done ladies!
Thursday had 2 games in the M.W.M.T.L. The A team were away to Devizes A and won again 77-37 (10-0pts) and the B team were at home to Corsham losing 42-48 (2-8pts).
On Friday evening Yvonne was victorious in winning her 2nd round in the National Singles, with her score 21-13. Well Done Yvonne!, We wish you all the best in the 3rd round against Lucy Smith (Westlecot) due to played on Monday 18th at Calne 7pm.(depending on weather conditions)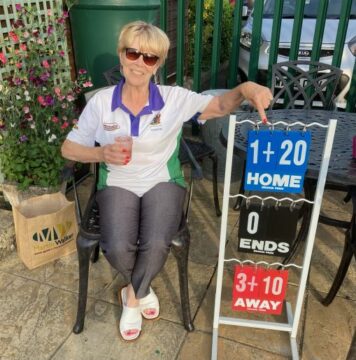 On Friday evening our ladies played at home against Trowbridge Westbourne in the Nor West Leaque, the ladies lost 21-32, It was a close game but in the end Trowbridge Westbourne managed to win over.
On Saturday our ladies played in the semi final  County over 55's at Avon,  the ladies  won the semi-final against Devizes with a score 16-11. Our ladies are absolutely fantastic for beating Box in the final by  beating them 17-4. What an achievement!!  for them, and an honour to them and for  CBC. Our team Sally, Mayumi, Sheila & Yvonne, Well Done to you all !!
Friday and Saturday will be coaching as normal, please contact Roy Jennings.