On Monday we started with a North Wilts Mixed league game away to Blue Circle and unfortunately lost 40-47 (0-10pts).
In the evening we had 2 teams in the 2nd round of the B.W.National Men's pairs competition with Barry Wicks/David Johns playing Chippenham Town led by Martin Clarke, they won comfortably 22-14 and go on to the 3rd round on Friday evening, see details below. Unfortunately Steve McColl/Derek Nicholson lost against a pair from Marlborough led by Dave Lewis, this was a very close game and the result was i nquestion up to the very last bowl, game ended 19-20. Well done to both pairs, it was good to see members there to support them.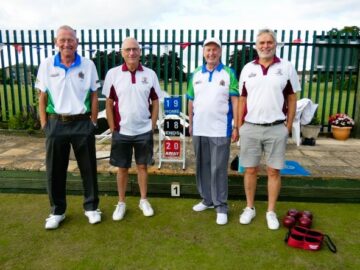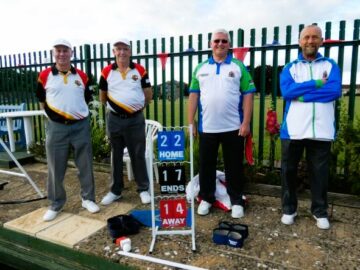 Also at the same time our ladies were playing Supermarine in the County Fours and won 15-13, it was all down to the last end but congratulations to our team Sally, Martha, Sheila and Yvonne, they now are in the final four, which will be played at Avon on Saturday 16th July at 10.30 am. This a great success to our ladies so do go along and give them the support they deserve. Good Luck ladies !!
Tuesday had 4 teams in action (Ladies Blues game has been postponed) as follows-
Our ladies Green team (Seidal League) were away playing on Tuesday to Chippenham Park, they lost with a score 12 Chippenham Park, 8 Calne Green team.
White Horse mens, Calne A were at home to Spencer Melksham C and won 19-11. Calne B we're away to Corsham B and won 16-9. Calne C were also away, this time to Devizes E and lost 10-19.
In the evening it is Club night, come along and try bowls.
On Wednesday evening our ladies played at home in the Nor-West  to Corsham, The ladies had a good game with a score 52-21, Well done ladies! The game was played in good spirit,
Our ladies were away to Chippenham Town playing in the BW league on Thursday evening, The ladies lost 27-38, It was a good game and the weather was great for a change,
Thursday brings 3 games, The men had 2 games in the M.W.M.T.L. The A team were at home to Broughton Gifford and won 55-41 (8-2pts). TheB team were away to Trowbridge West Falcons and lost52-62 (1-9pts).
On Friday evening in round 3 of the B.W. National men's pairs, Calne with Barry Wicks/David Johns took on another Chippenham Town pair and after a slow start ran out 17-13 winners, next round is on Monday evening, details on the next weekly report, the photo only shows the winning pair, the opposition declined to be photographed for posterity!